The Campaign is led by a group of preparation enthusiasts. Over the years, this passion has evolved into a way of life. Currently, each of us has an emergency plan - our own emergency backpack, accumulated supplies allowing us to survive a long period of time without external supplies. We and our families are prepared and calm.
Our aspiration is to share our knowledge, skills and experience needed to survive the threats. That's why the idea to design the GOTOWI.ORG campaign was born, so that we could provide everyone with information on how to prepare for crisis situations and regardless of the difficulties - survive.
To prepare materials for the GOTOWI.ORG portal, we made use of our own knowledge, experience and following institutions' or people's materials:
Federal Emergency Management Agency (FEMA)
Administration and Digitization Ministry
Interior and Administration Ministry
National Fire Service
Government Security Centre
Jarosław Słoma - "I live and act safely"
Voluntary Fire Brigade, Zakliczyn
Police Headquarters Traffic Office
Security and Crisis Management Office of the Capital City of Warsaw
We are a non-profit organization. The GOTOWI.ORG campaign is carried out with our own and donors' resources.
Are you willing to support us?
Volunteers and enthusiast are invited to the cooperation!
The mission of the GOTOWI.ORG Foundation is creating the campaign addressed to the general public, as a result of which there will be both an increase in safety of each citizen and an improvement in their ability to survive natural disasters and threats resulting from a human activity.
We are honoured to make the GOTOWI.ORG portal available for you, which is first element of our campaign.
Media about the Campaign:
The year 2020 - May
Due to the global pandemic, many people saw the sense of preparations. And about us, preppers reports and documentaries are created. In television TVN, Agnieszka Kordalewska had the opportunity to present the Foundation and this news portal.
The year 2019 – The establishment of Foundation
In December 2019, a group of preparation enthusiasts created the GOTOWI.ORG Foundation, which statutory goal, among others, is to bring on and run a portal GOTOWI.ORG. From the very beginning, spreading the awareness of the need to prepare for emergencies was the aim and mission for our group. Trainings, exercises and courses for civilians all over Poland were also an important, complementary element of this Campaign.
Now, our dream is to make an annually shooting training mandatory, for every adult in Poland. We wish that every Pole both takes part at least once in our Specific Information Course and once a year, in the First Aid Course.
The year 2018 - research and analysis
We had been broadening the knowledge on Polish civils' preparation level in case of threats - awareness, skills, equipment. Additionally, we examined how effectively will the government act to help citizens during a crisis situation. An internal use report had been created, giving rise to this Campaign.
The year 2017 – books publication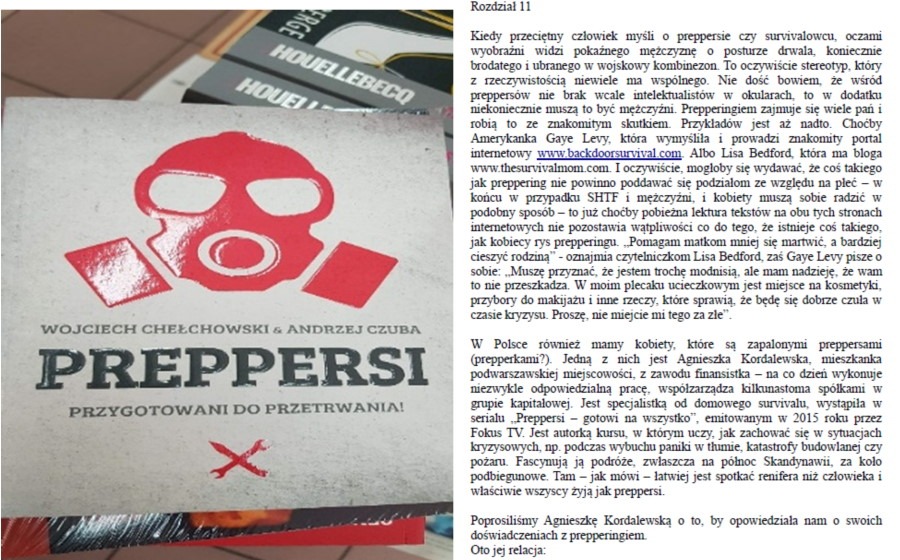 In the year 2017 Agnieszka Kordalewska had been asked by the book's authors to help with the text about Polish women's preparation in case of a catastrophe. You can find it in chapter 11 of this publication.
The year 2016 – press interviews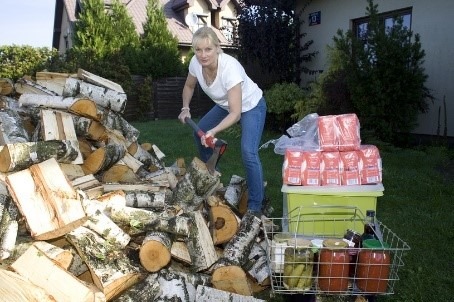 In the year 2016, Agnieszka Kordalewska had given press interviews describing what does she possess in her bag and why does she have a half-year supplies. She wanted to share the idea of being prepared, thus.
December 2015 – "Pytanie na Śniadanie" (Polish show, translated as: "Question for a breakfast")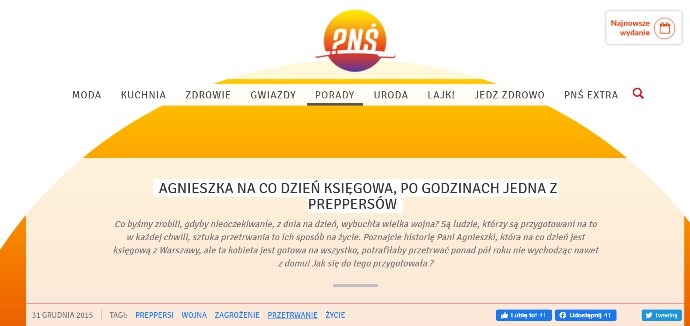 The reportage conducted by Kaja Mielczarek with the participation of Agnieszka Kordalewska and Her Family about the household and householders' preparation for a disasters, catastrophes and threats. It has been aired on 31 December 2015 on behalf of Polish Television's program: "Pytanie na śniadanie".
November 2015 - emission of episode documentary programs via FOKUS.tv

Series of documentary programs arranged by FOKUS.tv, reporting about catastrophes and preparation in case of threats, had been announced.  Agnieszka Kordalewska had been invited by Andrzej Meller to take part in one of the episodes. The woman demonstrated how she and her family prepare themselves for an emergency.
July 2015 – First Preppers Convent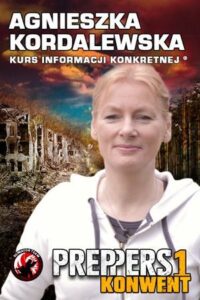 For the participants of the Convent, Preppers and willing Varsovians, a Specific Information Course: "Home Set", was prepared and conducted. Moreover, this was a first Course program presentation.
June 2015 – The original Specific Information Course was created

Agnieszka Kordalewska started a mission to awake the awareness among friends and family to encourage them to gain knowledge, essential to be ready when a crisis situation occurs. She encouraged others to take part likewise. An original course program had been created. Additionally, first MANUAL brochures with instructions how to behave to survive the crisis, had been printed.
June 2014 – initial preparations
In the year 2014, Agnieszka Kordalewska, inspired by the conversation with older members of the Family about the situation inside the Ukraine and the annexation of the Crimea, began the preparations. She collected supplies, read American literature, built her first emergency backpack and started carrying EDC inside her bag. Additionally, Agnieszka found out she became a so-called Prepper.